Totalne zanurzenie w poczuciu gry na prawdziwym fortepianie akustycznym
Od czasu debiutu w roku 2009, pianino Roland V-Piano zaskarbiło sobie wiele pochwał i zdobyło wiele nagród za swoje przełomowe podejście do modelowania dźwięku fortepianu akustycznego, niesamowite brzmienie, czucie i odpowiedź instrumentu. Był to najczęściej wybierany instrument przez najbardziej utalentowanych pianistów na świecie. Jaka jest zatem ewolucja V-Piano? Przedstawiamy V-Piano Grand! W eleganckiej obudowie fortepianowej z unikalnym wielokanałowym nagłośnieniem, które inteligentnie reaguje na sposób gry, ten wyśmienity instrument zaciera różnicę pomiędzy cyfrowym a akustycznym światem. Moduł brzmieniowy V-Piano Grand został znacznie ulepszony w stosunku do poprzedniej generacji i posiada dodatkowo nowe modele fortepianów. Witamy w nowym świecie występów, finezji i innowacji muzycznych.
Rewolucyjna technologia modelowania V-Piano w obudowie fortepianu
Wbudowany wielokanałowy system nagłośnieniowy emitujący dźwięk prawdziwego fortepianu
Luksusowa klawiatura PHA III Ivory Feel z mechanizmem wymykowym
Progresywna akcja pedału tłumika działająca jak w prawdziwym fortepianie
Elegancki, tradycyjny kształt fortepianu
Wbudowane nowe modele fortepianów, w pełni zoptymalizowane dla V-Piano Grand
*Aktualna ława może być inna.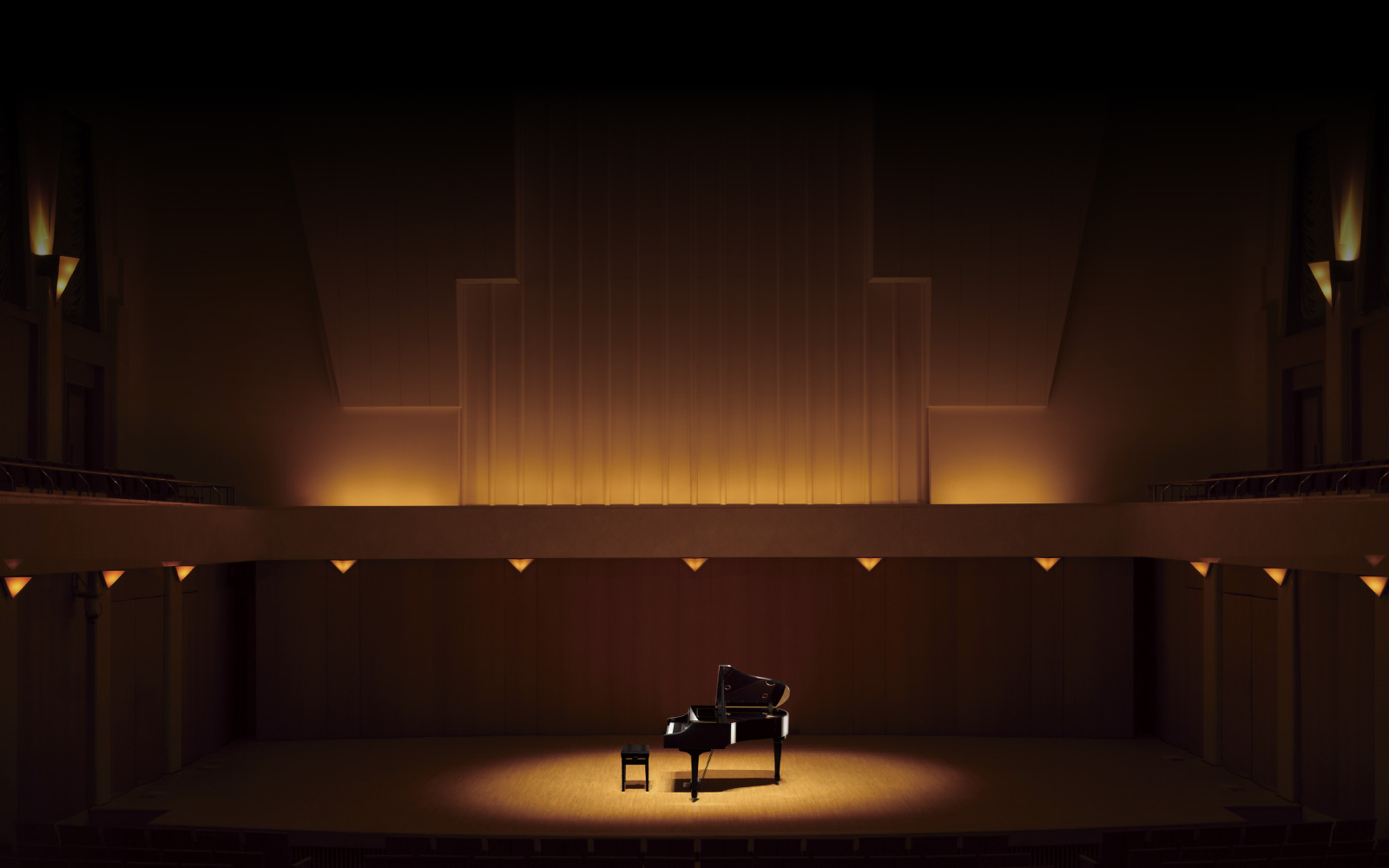 Żyjący fortepian
V-Piano Grand pokonuje ograniczenia poprzedniej technologii dzięki rewolucyjnie "żywemu" silnikowi, który sprawia, że każda nuta odpowiada i wybrzmiewa w naturalny, ciągły i perfekcyjny sposób. Dźwięk w V-Piano Grand nie posiada przełączania próbek w zależności od siły nacisku, jest pozbawiony zapętlenia, jest gładki i naturalny. Trzeba go usłyszeć, by uwierzyć. Organiczny, naturalny, piękny - V-Piano Grand jest marzeniem wykonawców.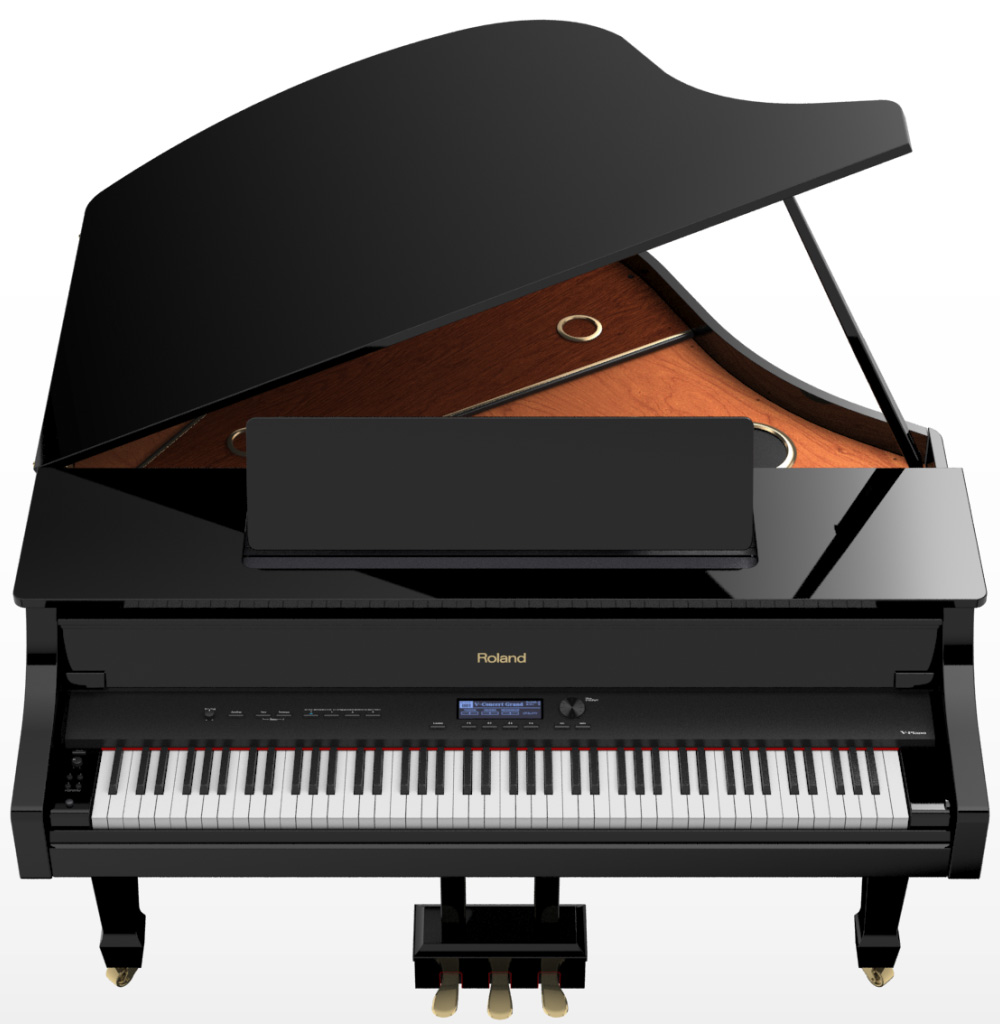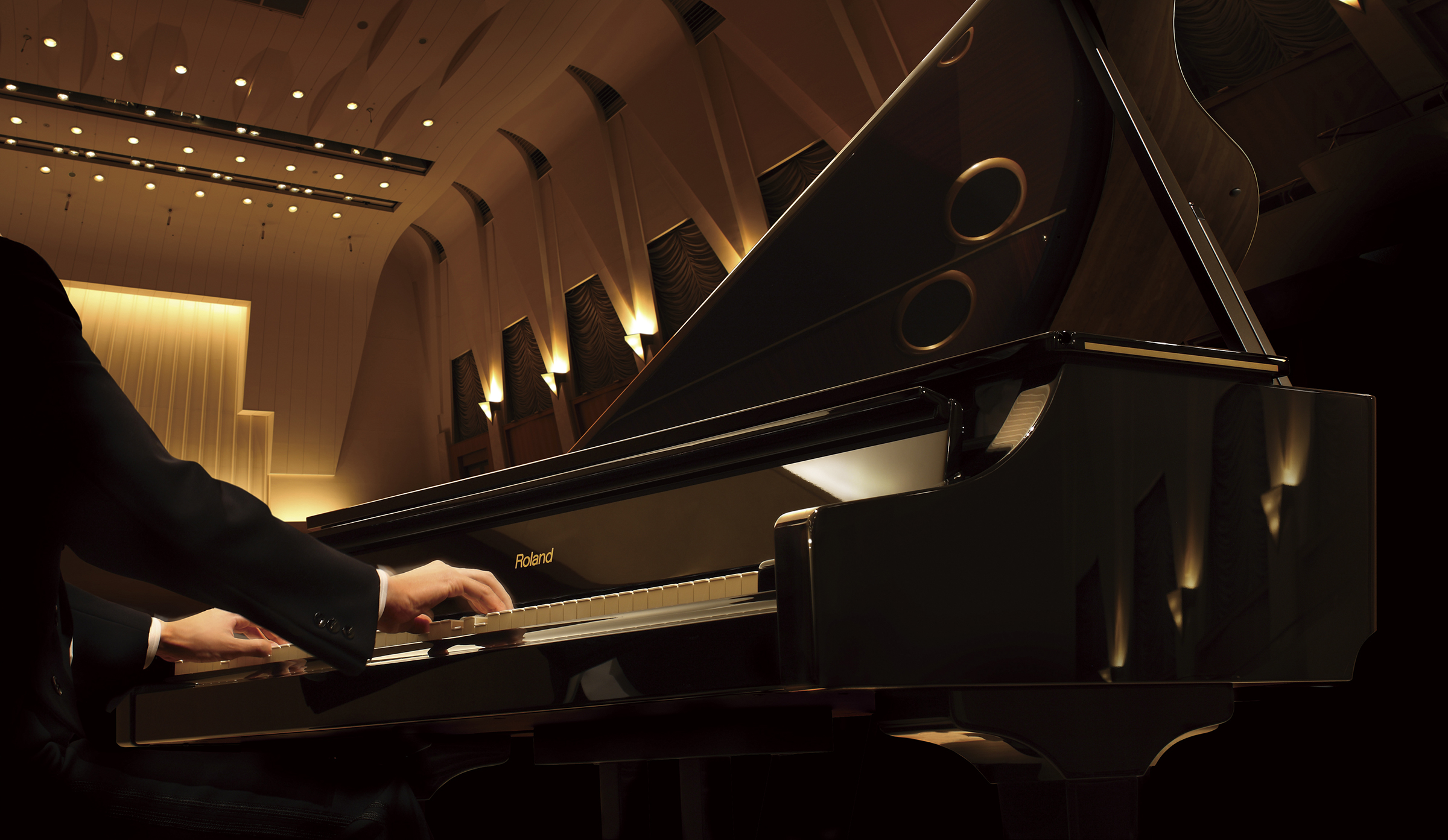 Zdumiewająco przestrzenny dźwięk
W przeciwieństwie do innych instrumentów produkowanych do tej pory, V-Piano Grand posiada technologię nagłośnienia wielokanałowego wypełniającą pomieszczenie zdumiewająco przestrzennym dźwiękiem, w którym pianista oraz słuchacze nie odnotowują istnienia głośników. Każdy element dźwięku fortepianu jest płynnie umieszczany w stosownej przestrzeni dźwiękowej naturalnie zmieniającej się zgodnie z przebiegiem gry. Przykładowo dźwięk kliku młoteczków jest z perspektywy pianisty umiejscowiony bliżej niż dzwonienie strun, które słyszane jest z większego dystansu. Każdy element jest w czasie rzeczywistym inteligentnie umiejscawiany tworząc szeroką, wielowymiarową przestrzeń dźwiękową. Taki obraz dźwiękowy jest prawdziwy zarówno dla pianisty jak i dla słuchaczy. Co więcej, dla każdego modelu fortepianu stworzona jest inna przestrzeń dźwiękowa. To jest zdumiewająca cecha V-Piano Grand.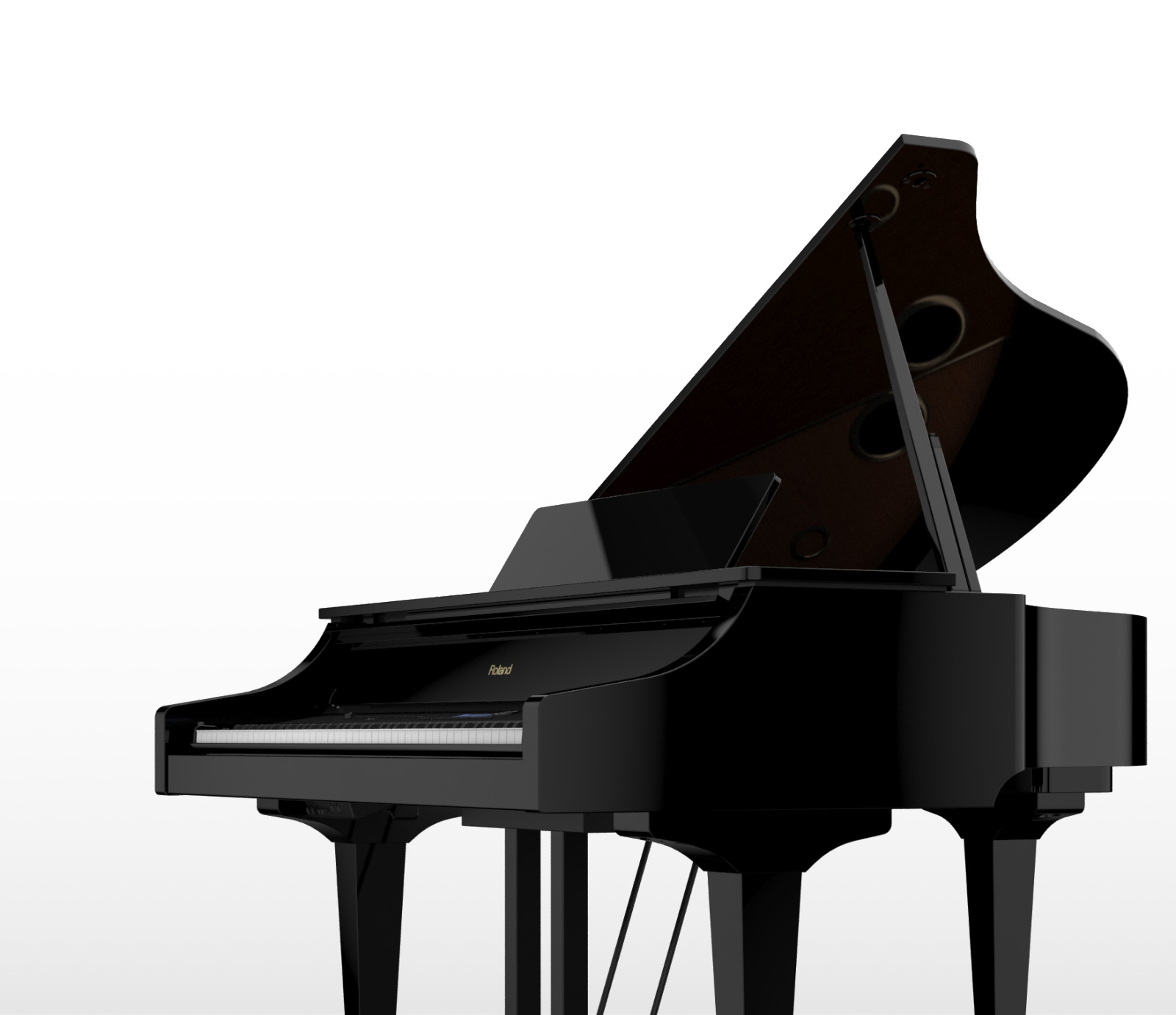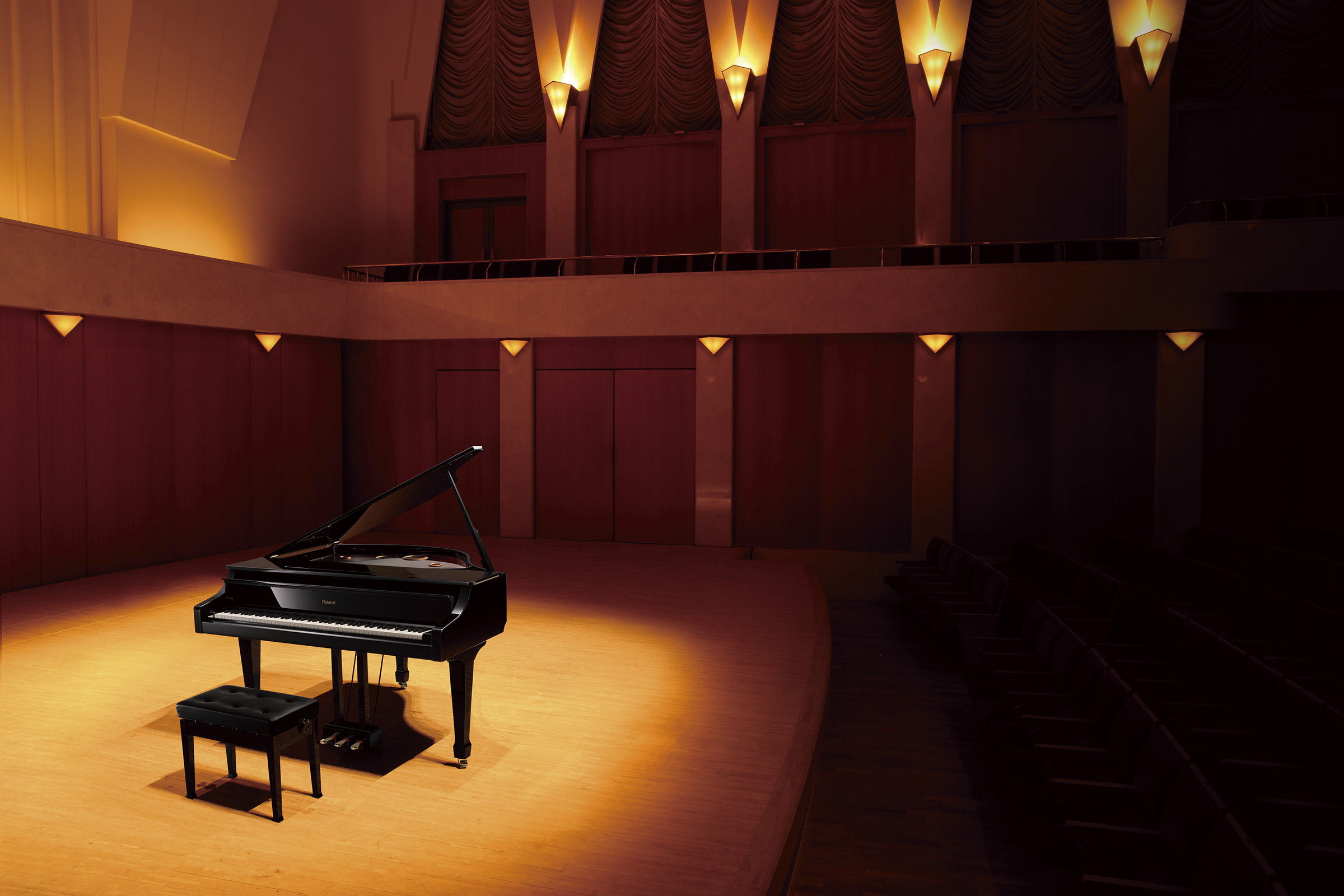 Projektowanie brzmień
Wśród zawartych w V-Piano Grand brzmień znaleźć można fortepiany Vintage znane z przeszłości oraz bardziej futurystyczne Vanguard, a nawet stworzyć własną kolekcję. Zmień twardość wirtualnych młotków i eksperymentuj z egzotyczną konfiguracją strun, strojów i materiałów takich jak potrójne struny ze srebra dla każdego klawisza. Graj dźwiękiem fortepianu uznanym na świecie lub zupełnie nowym, który jeszcze nigdy wcześniej nie był słyszany.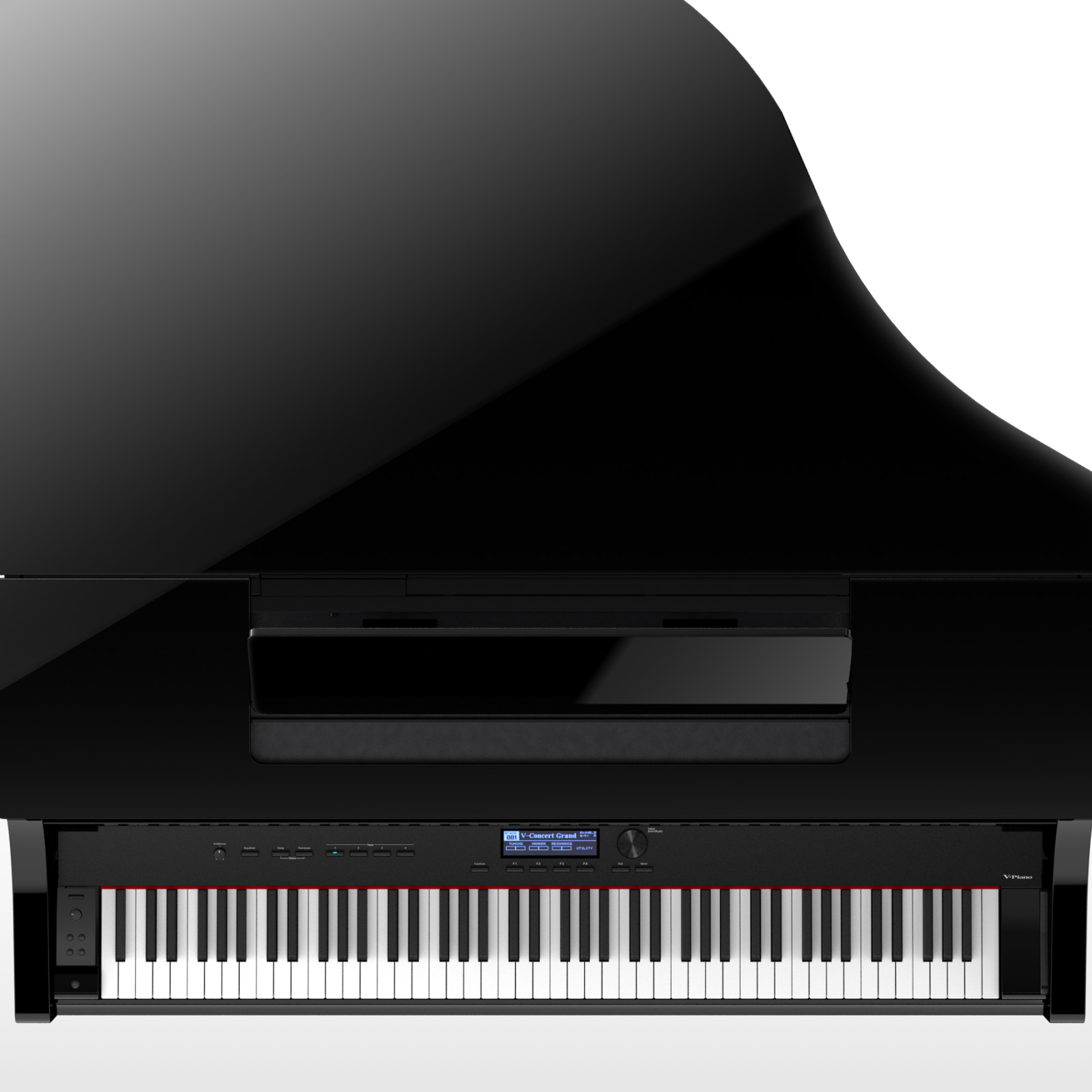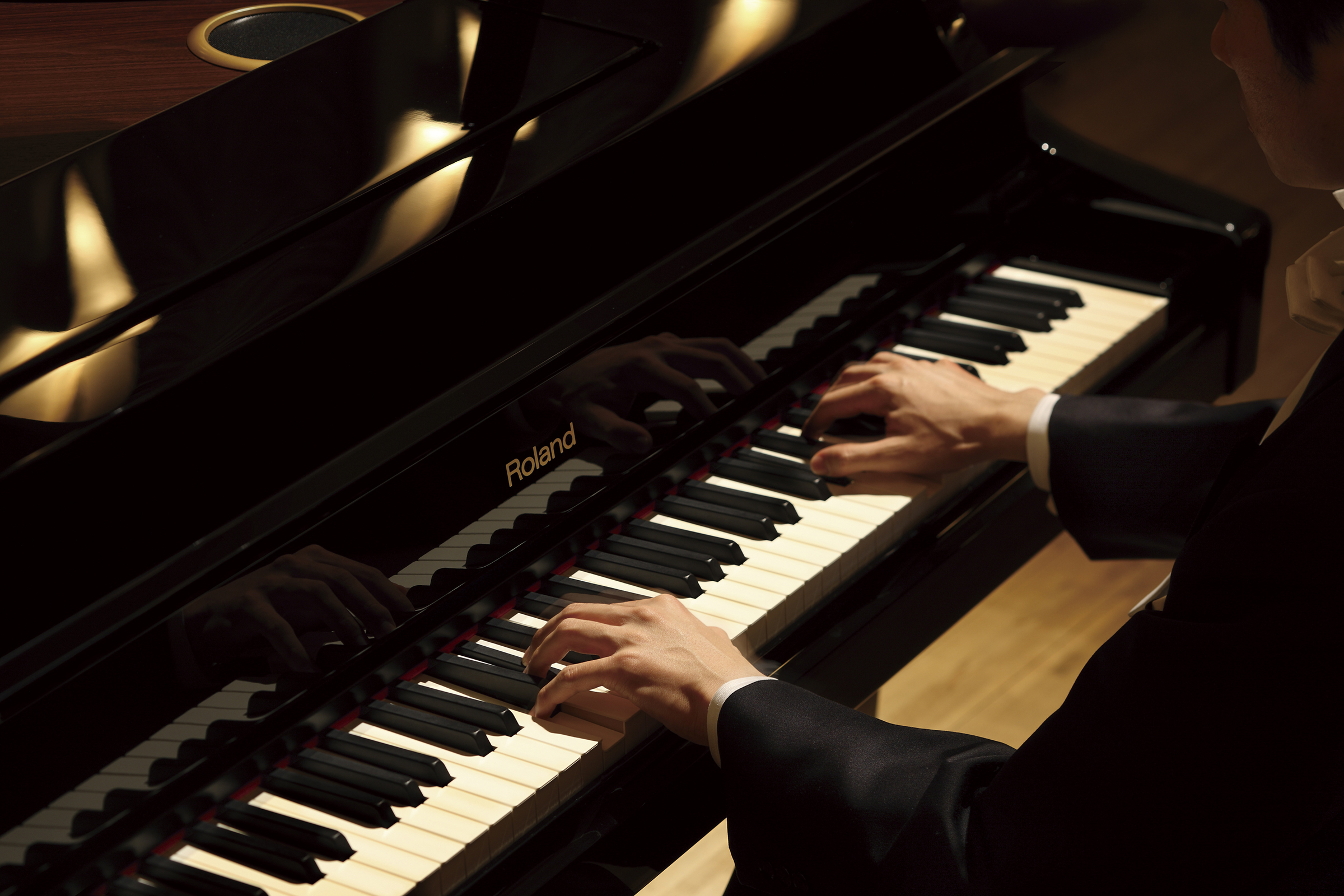 Innowacyjna konstrukcja obudowy
Estetyczny wygląd Roland V-Piano Grand cieszy swoją lśniącą, wypolerowaną powierzchnią pokrywy klawiatury, która odbija światło, a także może zasłaniać panel sterowania. W przeszłości pianina cyfrowe Roland posiadały albo pokrywę zamykaną, albo przesuwaną. W V-Piano Grand obie opcje połączono co zaowocowało uzyskaniem przepięknej pokrywy, która może być także ustawiona w pozycji klasycznej. Pełne otwarcie pokrywy umożliwia sterowanie panelem. Przesunięcie pokrywy poziomo zakrywa panel. Pulpit jest składany, a pozostała część V-Piano Grand płaska.