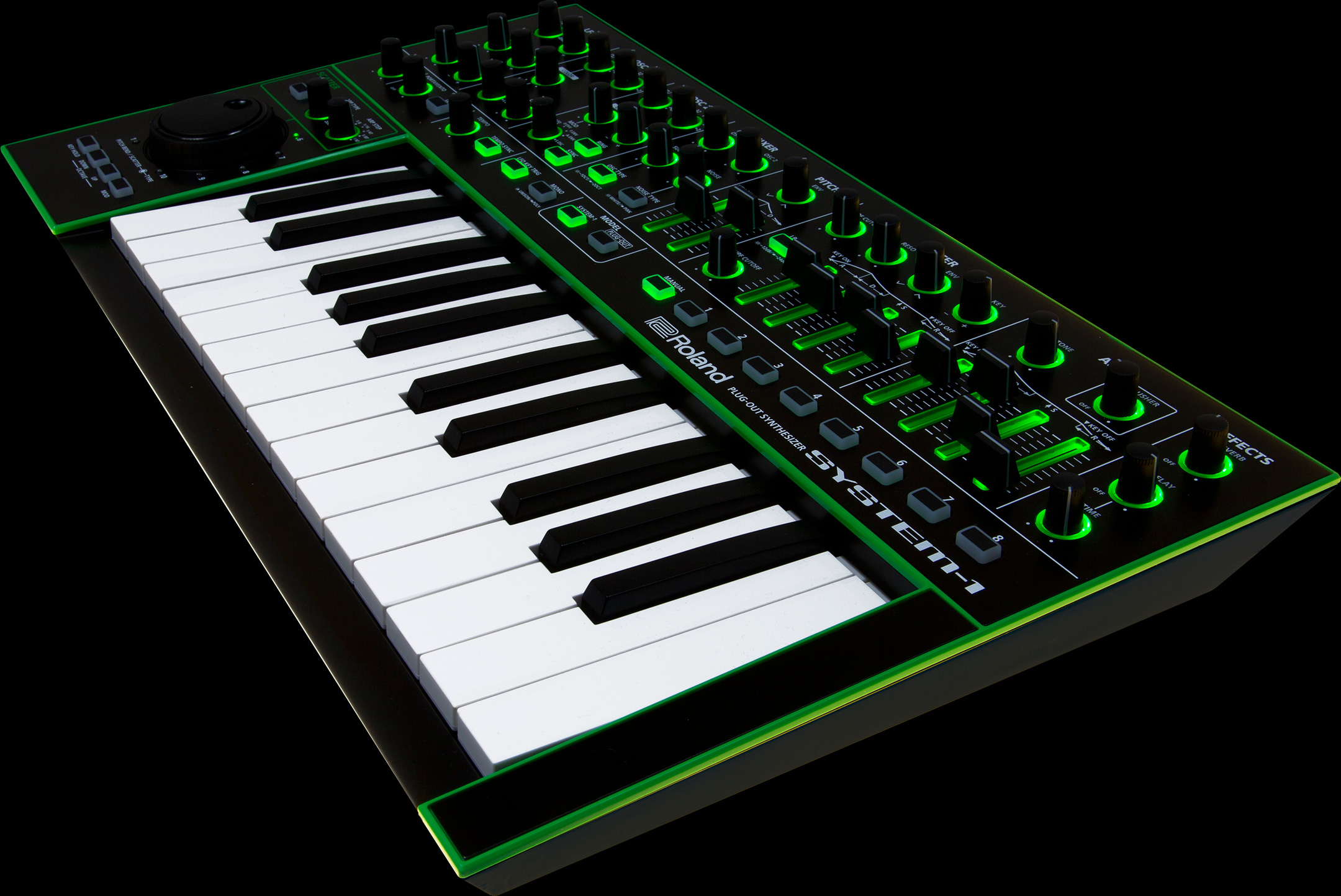 W latach 70, Roland wypuścił SYSTEM 100, SYSTEM 100M, oraz prawie mityczny SYSTEM 700. Te modularne i semi-modularne syntezatory zachwalane są do dnia dzisiejszego za ich elastyczność i charakter dźwiękowy. W duchu tych poprzedników, SYSTEM-1 otwiera nowe drzwi z pamiętną elastycznością i dostępem do szerokiej palety brzmień z wyrazistym, bezbłędnym charakterem kojarzonym z syntezatorami Roland od prawie czterech dekad.
Cztery oscylatory dla budowania tłustych brzmień syntetycznych
Płynne przechodzenie z jednego kształtu fali do innego za pomocą Oscillator COLOR
Wszystkie parametry mogą być kontrolowane przez gałki fizyczne i suwaki z wskaźnikami LED
Zaawansowany arpeggiator z funkcją Scatter
Kółko Scatter jog oferuje 10 różnych wariacji fraz z dynamiczną kontrolą w czasie rzeczywistym i ponad 10 różnych poziomów głębi
-12 dB i 24 dB typy filtra z niezależnym filtrem high-pass
Pokrętło Tone dla łatwości balansowania brzmienia
Pokrętło Crusher dla nowoczesnej drapieżności
Zintegrowane efekty delay i reverb
LFO i delay synchronizowane do tempa
Innowacyjnie wąska klawiatura z 25 normalnego rozmiaru klawiszami
Komfortowy do grania i najbardziej kompaktowy syntezator Rolanda jak dotąd

73 fizyczne kontrolery. 100 procent syntezy.
Poznaj syntezator SYSTEM-1, który jest prawdopodobnie totalnie inny od tych, które poznałeś wcześniej. To dzięki nowej technologii Rolanda Analog Circuit Behavior (ACB), którą wykorzystaliśmy do prześledzenia każdego aspektu obwodów analogowych i do odtworzenia ich w najdrobniejszych detalach. Technologia ta wypełnia SYSTEM-1, tworząc fuzję przepięknych klasycznych i totalnie nowoczesnych brzmień syntezatorowych.
SYSTEM-1 to nie tylko świetne brzmienia ale też innowacyjna konstrukcja ze sterowaniem przeznaczonym do gry na żywo, wysokiej jakości konstrukcją i oszałamiającą ilością świateł, gałek, suwaków mówiących "Jestem syntezatorem. Usłysz mój ryk!" Brzmi dobrze? Tu jest jeszcze coś więcej..
Plug In i Plug-Out
SYSTEM-1 może kontrolować, a nawet hostować oprogramowanie odtwarzające klasyczne syntezatory Rolanda. Tak właśnie - SYSTEM-1 daje dostęp do pluginowej wersji legendarnych syntezatorów Rolanda, i mogą one być wgrane do samego SYSTEM-1, bez potrzeby komputera. Można się też przełączać pomiędzy wewnętrznymi brzmieniami SYSTEM-1 i tymi, które są we wgranym pluginie. My nazywamy tę sztuczkę "PLUG-OUT," i jesteśmy z niej bardzo dumni.
Sądzimy, że Ty także się z niej bardzo ucieszysz, kiedy doświadczysz niesamowitej autentyczności oprogramowania SH-101, dla którego SYSTEM-1 zapewnia intuicyjny i automatyczny jeden-do-jednego interfejs kontrolny, który po prostu działa. Powiedzmy sobie szczerze: kto mógłby zrobić lepszą emulację pluginową klasycznych syntezatorów Rolanda niż sam Roland? A SH-101 jest tylko początkiem - więcej syntezatorów PLUG-OUT jest już w drodze.
I jeszcze coś więcej
SYSTEM-1 wygląda świetnie i jest zaprojektowany do płynnej współpracy z innymi produktami z serii AIRA. Dodatkowo możesz podłączyć SYSTEM-1 do komputera poprzez USB i wysyłać i odbierać zarówno audio jak i MIDI, w tym MIDI clock do synchronizacji zewnętrznych urządzeń i innych jednostek AIRA.
SYSTEM-1 Wersja 1.1 Nowe funkcje
Backup i Restore — Zarządzaj łatwo presetami z opcją archwiwizacji i przywracania brzmień poprzez USB.
Snapshot — Wysyła wszystkie obecne wartości poktęteł i suwaków jako komunikaty control change.
Fix LPF CUTOFF Resolution — Wartość przyrostu dla "LPF CUTOFF" po modyfikacji parametru "MODE = SYSTEM-1".
Inne usprawnienia — Ogólne ulepszenia całego funkcjonowania i obsługi funkcji PLUG-OUT.