Przenośne pianino o doskonałej wydajności i wszechobecnej kreatywności w standardzie
Jeśli grasz na pianinie, to rozumiesz, że inspiracja może pojawić się w każdym miejscu – tam, gdzie grasz, z kim grasz i oczywiście z widowni, dla której grasz. Jeśli chcesz zanieść swoją muzykę innym ludziom, cyfrowe pianino FP-90 firmy Roland pomoże ci się tam dostać. W smukłej, nowoczesnej obudowie znajduje się moduł brzmieniowy flagowego pianina firmy Roland oraz klawiatura, a także wielokanałowy system głośnikowy o wystarczającej mocy, aby grać w kameralnych miejscach. Starannie dobrany zbiór dodatkowych brzmień zawiera brzmienia pianin elektrycznych, instrumentów smyczkowych i organowych, a pod ręką są również brzmienia syntetyczne, co pozwala używać pianina FP-90 w bardzo różnych sceneriach muzycznych. A dzięki wsparciu przez system Bluetooth® audio/MIDI jesteś w stanie łączyć się bezprzewodowo z aplikacją Piano Partner 2 firmy Roland i innymi aplikacjami muzycznymi w smartfonie lub tablecie. Dostępne w białym lub czarnym wykończeniu, pianino FP-90 jest gotowe do pracy wszędzie tam, gdzie chcesz grać.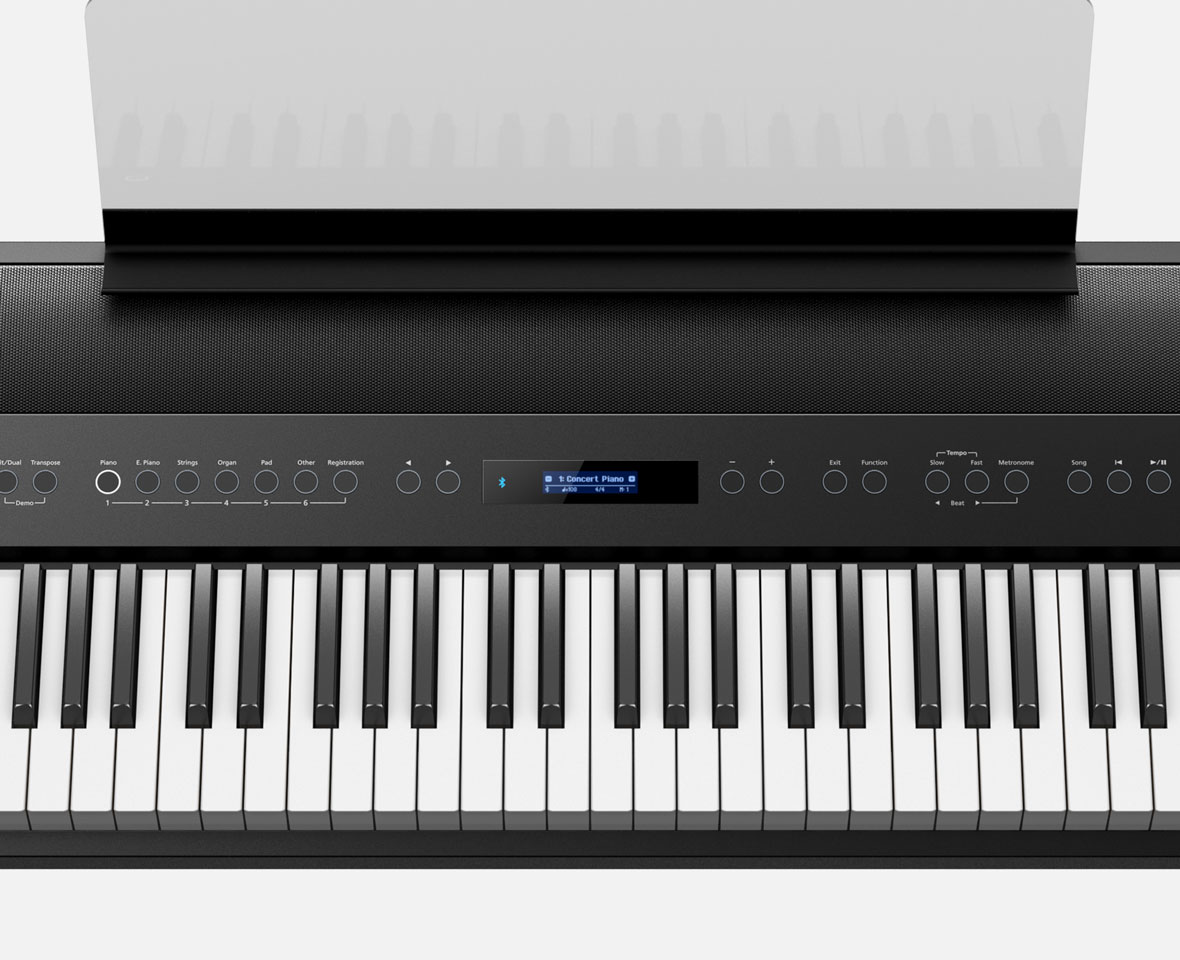 Doskonałe brzmienie fortepianowe i dotyk w przenośnej formie, którą można wszędzie zabrać
Dlaczego pianino przenośne miałoby oznaczać konieczność rezygnacji z dobrej jakości dźwięku i wrażeń dotykowych? Z pianinem FP-90 nie musisz godzić się na mniej, ponieważ w stylowej i przenośnej obudowie umieszczono moduł brzmieniowy i świetną klawiaturę, pochodzące z flagowych modeli. Technologia modelowania brzmienia fortepianowego SuperNATURAL firmy Roland to unikalny proces modelowania, który obejmuje cały proces tworzenia dźwięku w typowym fortepianie, w tym kombinację granych nut i ich wzajemny rezonans oraz interakcję wielu elementów instrumentu akustycznego. Efektem jest bogate, złożone brzmienie – pełny dźwięk z alikwotami – zmieniające się w zależności od sposobu gry. Dalej jest klawiatura PHA-50, nowy typ, łączący drewno i elementy odlewane, dając to, co najlepsze z obu światów. Piękne drewniane boki nadają każdemu klawiszowi znajomą, sztywną masywność, którą czuje się podczas gry, a trwała rama wewnętrzna sprawia, że pianinem FP-90 będzie można cieszyć się przez długie lata bez martwienia się o niezawodność.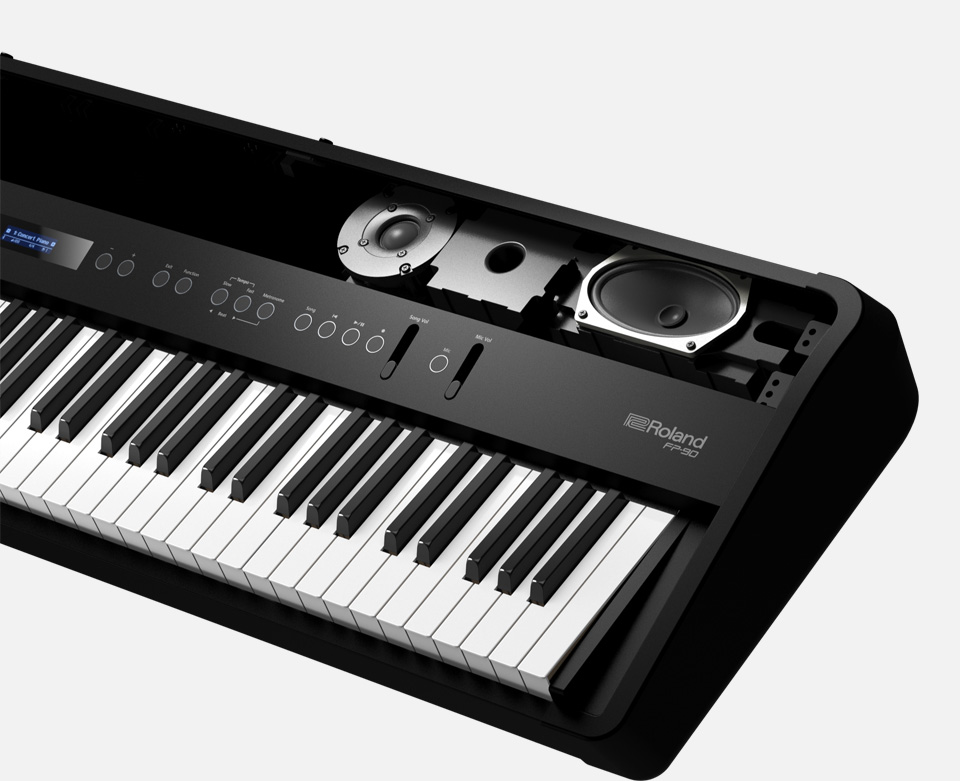 Potężne głośniki, dostosowane do wstępnego wzmacniania dźwięku w mniejszych obiektach
Pianino FP-90 wyposażono tak, aby brzmiało wspaniale, bez względu na to, gdzie będziesz na nim grać. Dyskretny system nagłośnienia dostarcza bogaty, mocny dźwięk do głośników głównych oraz dźwięczne wysokie tony do opracowanych od nowa stożkowych głośników wysokotonowych, ciesząc publiczność szerokim pasmem dynamiki i wiernym odtwarzaniem każdego elementu akustycznego. A wygodny, trzypasmowy korektor charakterystyki na panelu przednim zapewnia łatwą regulację barwy dźwięku, aby był dopasowany do otoczenia. Czy używasz głośników wewnętrznych w mniejszych pomieszczeniach, czy zewnętrznego systemu nagłośnienia na większych estradach, pianino FP-90 zawsze zapewni oszałamiający dźwięk.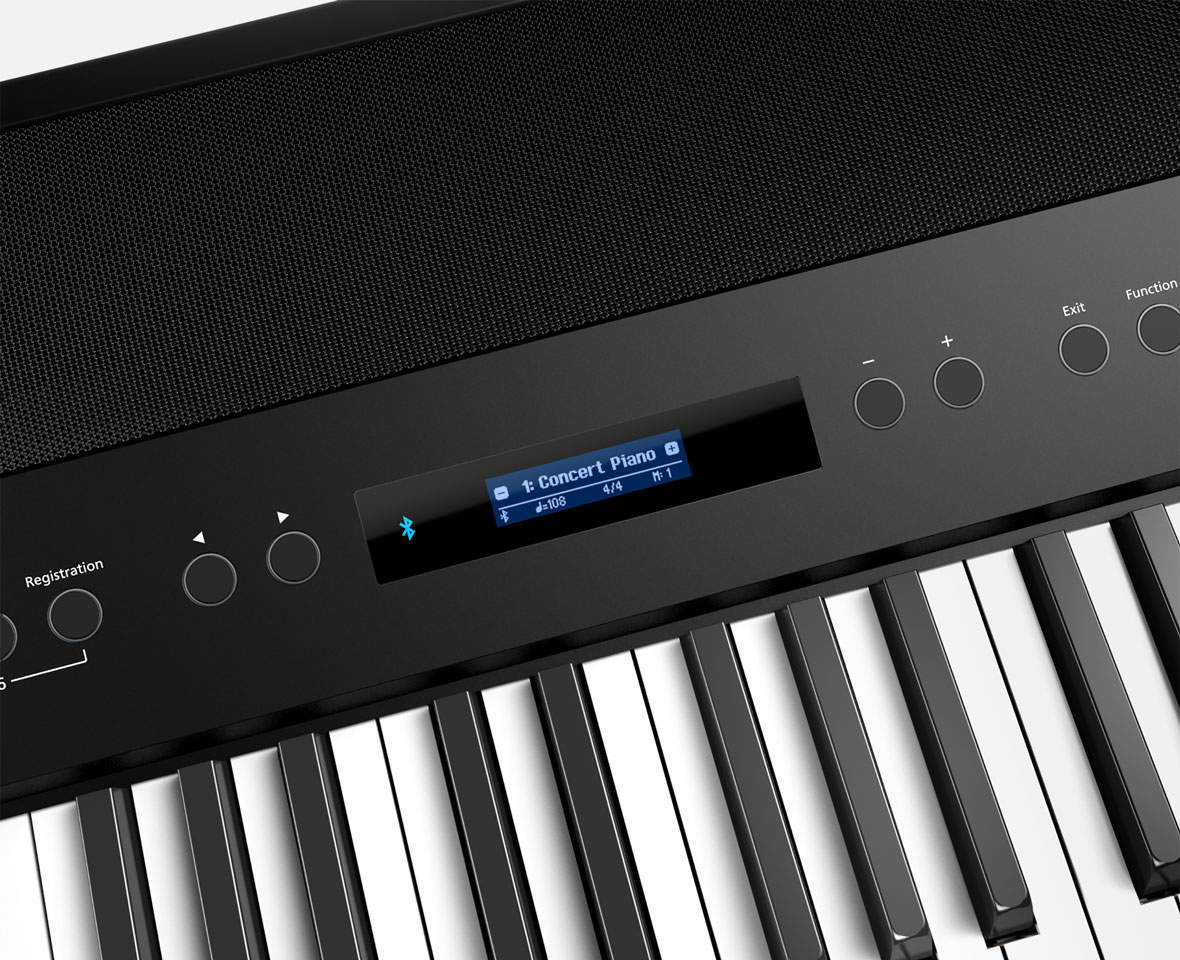 Versatile pro-quality sound selection for any style of performance
You expect a Roland digital piano to have a great selection of piano sounds, and the FP-90 certainly delivers. But what happens when you're playing a gig and need something other than the classic piano sound? The FP-90 has you covered with a selection of pro-grade electric pianos, strings, organs, and synths, giving you sound options to play nearly any style. You can store these favorite sounds—along with other useful settings like layers and splits—in 30 user registrations for quick recall. With dedicated Upper and Lower volume sliders on the panel, it's easy to adjust sound balances on the fly. If you sing as well, the mic input and dedicated vocal effects like compression, doubling and reverb let you get great vocal sounds without any extra gear. You can even record whole performances to USB memory in WAV format for sharing with others!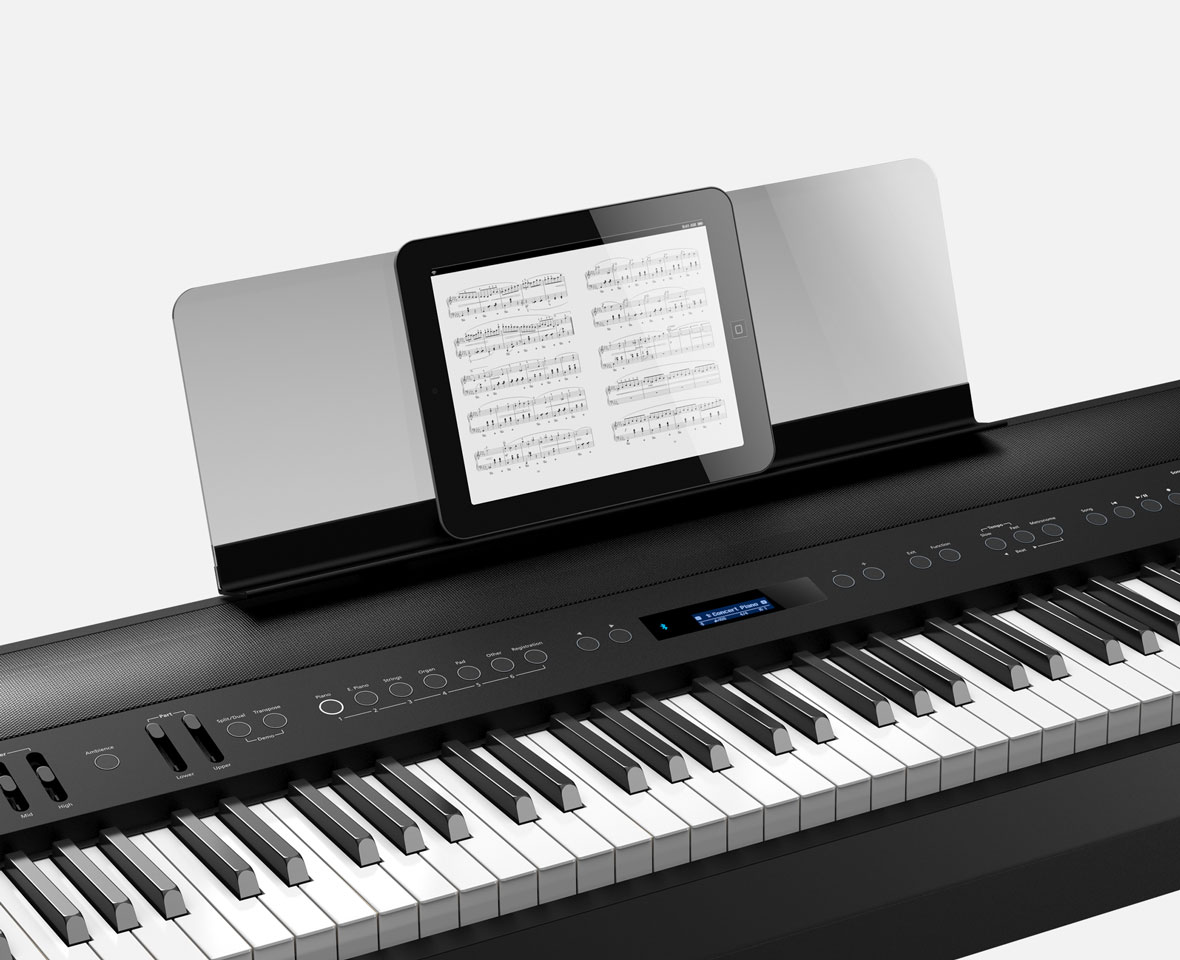 Łączność Bluetooth polepsza metody grania i ćwiczenia
Obecnie ludzie często grają na pianinie z akompaniamentem ulubionych utworów, przechowywanych w smartfonach. Dzięki możliwości korzystania z bezprzewodowej łączności Bluetooth, pianino FP-90 idzie o krok dalej, umożliwiając strumieniowe przesyłanie dźwięku do potężnych głośników wewnętrznych instrumentu, zapewniając znacznie bardziej wciągające doświadczenia. Zainstalowanie w tablecie bezpłatnej aplikacji Piano Partner 2 jeszcze bardziej zwiększa kreatywność, zapewniając dostęp do akompaniamentów rytmicznych w różnych stylach, w tym pop, jazz i blues. Akompaniamenty podążają za granym pochodem akordowym, a wszystko to dzieje się bezprzewodowo, dzięki technologii Bluetooth.

* Funkcja Bluetooth może nie być dostępna w zależności od kraju, w którym zakupiono ten produkt.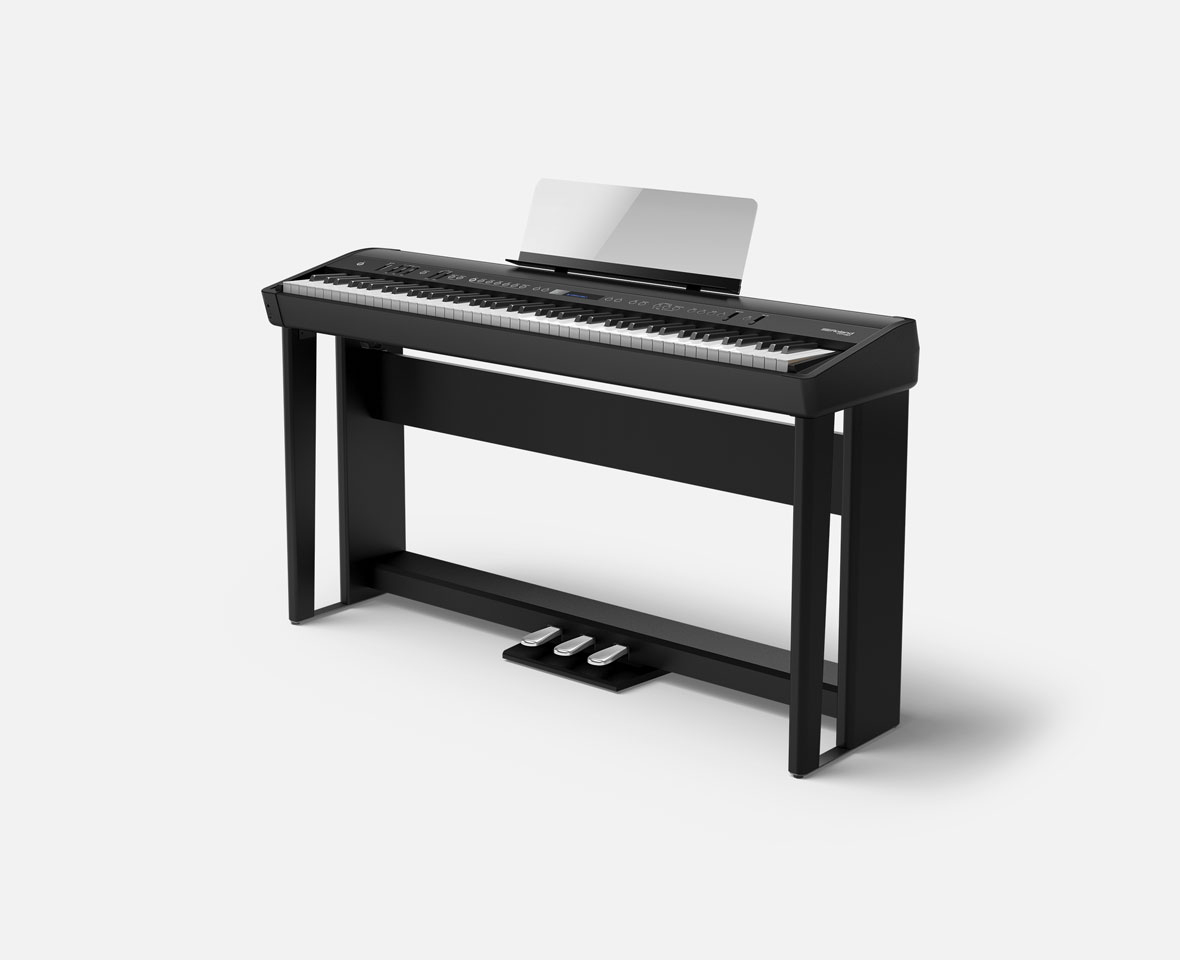 Wystarczająco elastyczne, aby grać wszędzie, gdzie chcesz
Chociaż pianino FP-90 jest wypełnione najnowszą technologią i funkcjami, oszczędzającymi czas zajętych muzyków, jego zewnętrzny wygląd jest prosty i wytworny. Chociaż jest to instrument przenośny, pianino FP-90 wygląda wspaniale również w domu, szczególnie w połączeniu z opcjonalnym statywem KSC-90 i skrzynką pedałów KPD-90, zapewniającymi świeży, nowoczesny wygląd. Statyw KSC-90 jest stabilny i trwały, mimo swej prostej, nowoczesnej konstrukcji, natomiast skrzynka KPD-90 z trzema pedałami obsługuje system Progressive Damper Action, zapewniający płynne reakcje na tradycyjne techniki gry.